As classic as you can get! Two dozen iconic red roses are a traditional and heartfelt way to say "I love you" - on Valentine's Day and all year long. The lush romantic gift is delivered in gorgeous Couture Vase that she'll treasure forever.
Twenty-four lush red roses are contrasted with deep green salal inside a clear glass vase.
Orientation: All-Around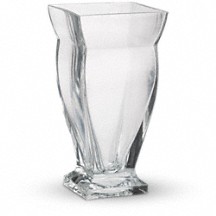 VASE
Created for exclusive Flowers-in-a-Gift collection, this shapely glass vase features graceful contours that complement any bouquet.